Wealthy Affiliate is an Affiliate Marketing program and certification course for online entrepreneurship produced by Kyle and Carson. The cost is $49 per month, which gets you SEO training lessons and keyword research software, along with instructions on how to create a totally passive income. You'll achieve this by creating content and sending traffic to your website.
Would I say that Wealthy Affiliate is a scam? No, actually. Regardless of what you think of how the Wealthy Affiliate course is laid out, it's for sure not a scam. They promise to give you coaching, tools, training videos, and a helpful Wealthy Affiliate community in their affiliate marketing program, and those are all things that they do provide.
The caveat is that Wealthy Affiliate members are making money online by selling OTHER people's products.
But most of the affiliates promoting Wealthy Affiliate as a course are ALSO members using their own affiliate links.
The program is designed to show you how to be a "wealthy affiliate marketer", but affiliate marketing can be an uphill battle if not done correctly, and you could end up losing more money than you make if you're not careful.
The purpose of the course is to teach you how to be a "wealthy affiliate marketer", but what they don't tell you is how difficult it can be to really succeed in affiliate marketing. If you're not careful, you could actually lose more money than you end up making.
If you want to build actual wealth on the internet, (at an average of $1,500 per sale EACH MONTH), check out my #1 recommendation here.
But we want to be completely honest in this review, so…
In this Wealthy Affiliate review, we're going to go deep into the upsides and the downsides of the program.
But before we can say Wealthy Affiliate is good, we have to ask a very important question: is affiliate marketing even worth it?
Like other affiliate programs, we get pitched an ultimate dream…
Run an amazingly profitable business where you don't have to worry about anything – no products, no inventory, no shipping, no customer service.
The only thing you need to worry about is putting this product in front of someone that wants to buy it, and the rest is money in the bank.
The best part?
"You can do it from anywhere in the world!"
Sounds pretty great… but is it?
It is 100% possible to make money with affiliate marketing – the real question is: is Wealthy Affiliate the best affiliate marketing program out there?
Well, the most difficult (and therefore most valuable) skill in the internet business is driving traffic AKA getting people to visit a website.
Later on we'll talk about why it's so difficult to drive quality traffic.
But for now, let's just say it isn't exactly an easy process (unless you have a proven traffic source for the exact product you're trying to sell).
If you really break it down, is affiliate marketing much different than a 9-5 job? You work for someone else, sell their stuff, and they can fire you at any time.
You don't really control anything, despite doing the most important part – driving traffic.
To be 100% clear, I'm not saying affiliate marketing wont work. If you've followed my blog for long, you'll know that I've made money myself as an affiliate marketer (selling women's health products).
I have several friends that make over $20,000/mo as affiliate marketers.
What you don't hear about is the $200,000 they had to invest UP-FRONT to start making that money.
But let's suppose that you REALLY want to work that laptop-entrepreneur lifestyle.
What if there was a way you could build a legitimate recurring income stream?
Recurring income that doesn't require:
Tens of thousands of dollars and months of time before seeing $1
Doing the heavy lifting, but only getting a small % of the sale
Living at the whim of another person that could take it all away if they feel like it
Something that could net you anywhere from a few thousand, to over $10,000 every single month, practically on auto-pilot.
A recurring income stream that you could build in a few hours per day, grow as big (or small) as you want, and doesn't leave you at the mercy of another person?
If that sounds interesting, you might make a good Digital Landlord. 
It kind of takes the nice parts of affiliate marketing, but transfers the control back to YOU.
All that being said, let's continue on to the Wealthy Affiliate review.
How Does Wealthy Affiliate Work?
The Wealthy Affiliate training is a membership and mentorship course. Students pay a monthly subscription fee in order to have access to all the training materials.
Once you sign up, they give you a quick lesson on how to use their course interface, how to interact with other Wealthy Affiliate members, and how to start building your first site so you can start making money online with affiliate sites.
Who Owns Wealthy Affiliate
The program is created by Canadian entrepreneurs Carson and Kyle. They've been in the industry with their Niche Marketing Inc. business since about 2005. That's a pretty long time in this industry!
By my estimate, these two have reached 1.4 million people to help them start their affiliate marketing training journey. That means theirs is one of the most widely known courses in the world.
You may even recognize the Wealthy Affiliate name just from being a fellow internet user. And you may have even wondered – is this some kind of Wealthy Affiliate scam?
That's why I wanted to write this review for you – an honest, unbiased opinion on whether the Wealthy Affiliate program is really worth your hard-earned money.
Let's start the review…
Kyle Loudon
Kyle seems to be a good dude, and he's clearly been successful in his ventures. This is evident from the affiliate sites he owns that he shows you at the beginning of the course.
His site traffic seems legit, so I think it's safe to say he knows what he's talking about when it comes to his affiliate marketing course.
What I'm saying is, he's definitely not a con artist.
By my estimates, he could probably just live off of his current affiliate sites that he created back in 2005-2015 and not do much more work. And knowing that Wealthy Affiliate membership has grown exponentially year over year – he may as well be on some private island living it up.
Jay Neill
Jay is a guy who's flown under the radar for the most part.
He's the trainer for Wealthy Affiliate premium, who goes live each week and on chat. He became a member in 2007 and grew enough that he's now referred to as the first "WA influencer" in the world.
Jay could be a key to helping you really understand how to make money with wealthy affiliate.
This is especially true since in my opinion, he's probably the main reason 99% of the members who are currently in Wealthy Affiliate even joined.
So, I looked into this dude a bit more:
Jay's site is definitely performing better than the three sites Kyle shows in the course…but the numbers aren't high enough to match the type of lifestyle he's currently enjoying, in my opinion.
Sure there's a decent traffic history there, but the peak was all the way back in 2019…
This might raise some red flags for you or anyone doing some research into Wealthy Affiliate success stories.
Until…you realize…the site in the screenshot above is basically just one giant funnel engineered into getting you to join the Wealthy Affiliate program! Duh!
If you look close enough and spend some time on the site, you'll be bombarded with pop ups urging you to watch a "live site build" from Jay – claiming it makes $300 per day.
Of course I decided to dig even deeper since those are some pretty unrealistic claims.
According to ahrefs, though, it looks a bit more like this:
Not as high as expected, huh?
The numbers don't lie here, and they aren't adding up.
Now let's say Jay gets 500 visitors per month, all of which are clicking his link (a completely impossible scenario).
Of the 500 visitors, let's say 250 actually buy the helmet with the highest price ($65), and let's also assume he's making 8% commission on those helmets (again, very very unlikely it's this high of a rate).
That would add up to only $1,300 – nowhere NEA R the $9,300 he's claiming.
And remember, I was being overly generous with the numbers.
You'll see this site again if you decide to sign up for their emails. They'll send you a screenshot of the Helmet site and a supposed payment he got from it.
Seems like they're being really transparent, eh?
Look closer…
I noticed a few things that makes this "proof" much less trustworthy…
This screenshot is from almost 5 years ago!
Amazon reduced the commission on this from 8% to 5.5% back in 2017
Jay's conversion rate is much lower than my estimate
So, I think this shows pretty clearly that the numbers he's claiming can't be correct.
In my research I've noticed that Jay Neill isn't often able to answer specific questions related to his supposed "area of expertise." Just look at this example I found from Reddit that exemplifies some not so positive behavior.
Let's be clear, I'm NOT claiming he's a scammer…but I do believe there are other programs that will actually provide you with real coaching and support.
Just wanna put this out there…below is a recent screenshot from the Snack Helmet site. You can make your own judgments.
Should You Join Wealthy Affiliate?
This isn't a question I can answer for you, you'll have o draw your own conclusions.
I'm just here to provide you with the knowledge that I gained after 40+ hours of scouring the internet for every detail about the Wealthy Affiliate program.
I have to say, I can't recommend this to you with a clear conscience. The odds that your results will be comparable to the ones shown in the course are dismal at best.
Not to mention the fact that the training isn't updated on a regular basis, making a lot of what they're teaching pretty outdated…and doesn't apply anymore.
Like, how are they giving you screenshots from 5 years ago claiming that you can expect similar results?
The only reason I can think is, maybe they haven't had that kind of success in 5 years…
Just sayin'.
Honestly though, here are some of the main reasons I don't like recommending this program:
Main training has some inaccurate claims
At times, the training has bad advice
Some lessons are incomplete
Course as a whole isn't well-constructed
What Does Wealthy Affiliate Cost?
The question you've been wondering – how much does this training cost?
You'll have two options: one of which is free. That's right, no cost you to!
The downside is that this version of the course is very limited, in my estimation.
The upside is that you get access to. the group! But, it's only for 7 days…
The free version really doesn't set you up for success, as it doesn't have enough detailed info to really get you started with your online business.
Think of it as their way to entice you just enough to get you to convince yourself you really need the premium version and give up your money to WA.
Wealthy Affiliate Premium Membership Cost
Wealthy Affiliate premium costs $19 for your first month and then $49 per month after that.
If you are able to pay for the whole year at once, the math works out to be about $30 per month.
If you did decide to go ahead and pay for premium, it's probably worth it to save that extra $19 a month.
Does Wealthy Affiliate Make You Money?
Technically, the answer would have to be yes.
However…
You should be aware that there's a lot to affiliate marketing that make it a lot more difficult than it seems. And plenty of people struggle trying to make an income with it.
Again, I just want to stress that it is still possible.
I just can't in good conscience promote Wealthy Affiliate training, because it requires a LOT of work. If you're willing to put that much effort into it, we recommend another way that will make it a lot more worth it to you. You may as well rake in some real dough if you're gonna put in the work.
This is the program I want you to know about – it's helped many businesses increase their worth to over $40,000 each month and it uses some of the same skills you'd be learning, but for a lot more profit.
If you get the free version, I gotta be straight with you and say you probably won't make any money with it. Even forking over the cash for the WA Premium version, you'd be lucky if you saw real money coming in from these techniques.
I can find plenty of evidence that those that joined Wealthy Affiliate before about 2016 were definitely making some real bank. Then the success stories seem to have tapered off for some reason…
Something must have gone terribly wrong around that time.
Ok, so let me break down how they instruct you to create a site if you're a successful affiliate marketer.
If you're just starting out, they tell you to use SiteRubix to build out a free site.
This is where things go wrong for me.
I thought they claimed you'd be building sites that were up-and-running and ready to make a profit on Day 1??
Now here's the catch..
Kyle Loudon already has explained that you can't be profitable with a site on the SiteRubix domain – that it has to be on your own. You'll never be one of those successful affiliate marketers the way the free course claims.
But maybe Kyle made a mistake? It wouldn't be the first time there was an erroneous claim made on the internet.
Turns out that's not the case.
Ok so you may be thinking that, "alright, the free version isn't worth it. But premium MUST be worth it to join?"
I would say that, no matter how the cookie crumbles, it's still Affiliate Marketing at the end of the day. And to me, this method won't bring you a high-achieving online business.
Maybe if you were reading this review 5 years ago, I may be recommending this method to help you with your financial goals. The true is, though, I don't think it's a viable way in the year 2022.
That ship has sailed.
It may seem harsh, but, I would ask you now – if you want to really make an income online and work as hard as you'll have to in the WA program – why not look into an option that will make some REAL money?
How Much Money Does Wealthy Affiliate Make?
Supposedly, Wealthy Affiliate made about $10,000,000 in 2019. I couldn't find the 2020 numbers anywhere.
Surely members making $10,000,000 is impressive, no?
Well, that number isn't what members have made!
That's what the WA creators have made in fees from members! Good for them, I guess…
Is there a Wealthy Affiliate Refund Policy?
You might be thinking – even if I pay for premium, I can at least get my money back if I'm not satisfied, right?
Wrong.
The truth is that Wealthy Affiliates offers absolutely no refunds!
Just take a look at their Terms of Service.
So that "great deal" for the annual membership that I talked about earlier isn't seeming like such a deal…
If you commit too fast and decide it isn't worth it, say goodbye to that money because you won't be getting a refund no matter how hard you try.
This is why I'd say that if you absolutely NEED to pay for premium, maybe consider starting with a month-to-month subscription.
If you do this, get ready for plenty of emails pestering and shaming you for not becoming a yearly subscriber.
Kyle doesn't mince words either – if you're trying to refer people to the yearly membership without having it yourself, he emails you saying "If you have a Honda and you're trying to sell a Chevy, it is going to be tough".
Ouch…low blow, dude.
Is Wealthy Affiliate Worth It?
For most of its existence, WA has actually had very solid training on the affiliate topic.
More recently though, there have been growing claims that it's actually a scam.
I personally wouldn't go that far – how can I deny the success stories from days of old?
But that's just it – it doesn't stand up to recent trends. Just take a look at some Trust Pilot reviews saying as much:
A few more things you may want to consider:
Most of the main training hasn't been updated since 2015
Bad advice
No real solid structure
Kyle and Jay's sites haven't been truly successful since 2016
No refunds available
60% of the WA course is focused on recruiting more members to WA!
Is Wealthy Affiliate A Pyramid Scheme? Is It MLM?
Technically, Wealthy Affiliate can NOT be called a pyramid scheme under the legal definition. It also can't be labeled a multi-level marketing or "MLM" scheme.
I wouldn't blame you for mistaking. it for either of them, though. There are definitely similarities.
Let me level with you here. Outside of this review, the only other reviews you'll likely see on WA are from WA students.
I have a feeling they spend a lot more time trying to get others in the program than they do actually selling as affiliate marketers like they learned in the course…
Dats suspicious…dats weird…
Now I do want to say that there are lots of other courses with students that actually do have success as affiliate marketers, not just referring others into the course itself.
Claims In Wealthy Affiliate That Are Unproven
You may think that the review can't get much worse for this course.
What if I told you that they regularly make false claims about their members? Like how WA marketers have the highest success rate of any platform online!
How can they prove such a thing??
These guys – as many gurus do – claim you can't fail using their methods.
Unless you understandably decide to quit.
That's right – they say "we have never seen a member of Wealthy Affiliate fail that didn't quit".
Mmhmm, sure…
Don't believe them – it's well within the realm of possibility to leave Wealthy Affiliate, join another course, and have success beyond their wildest dreams.
So-Called "Dream" Research Platform
You'll notice they love to push a tool called "Jaaxy" – it's their keyword research tool.
The issue with that is – I've literally never heard of it, and never heard any other digital marketing expert even mention it.
The only people who do – surprise! – are also Wealth Affiliate students.
Or, just maybe, you'll see it in a review like this just to cover the topic. But outside WA, no one uses it.
Wealthy Affiliate Members Own the Google Search Rankings And A Huge Share Of All Traffic Online
This seems to be a bold-faced lie.
I can see the opposite being true, however, based on the traffic their sites seem to get…this is just from my own research.
Misleading And Deceptive Claims In Wealthy Affiliate
Anyone Can Build A Profitable Site Under 30 Seconds
I just don't believe this based on the experience I have.
Sure – I guess you could say it's possible to stand up a super basic site – without content – in roughly 30 seconds. That doesn't mean it's profit-ready.
Not to mention that it takes WEEKS to rank high in Google (assuming you aren't paying for the traffic)
Traffic Boosts After Google Updates
Google rankings rely so much on good quality content that you're lucky if you are able to stay in your spot for any length of time. At least that's been my experience.
Wealthy Affiliate Offers Exceptional Web Hosting
Have you ever had a friend that never shuts up about themself?
That's kinda the vibe I get from WA when they start talking about their website hosting…
Hey, I'm not knocking them for providing this service to their members by any means…but, it's easy to see that there are other platforms just as good at better prices.
No Structure In Wealthy Affiliate
When going through the WA course, you just get the feeling it was a bit rushed and slapped together last minute.
Lessons and information is just messy and boring. I would be surprised if they took a ton of time to put it together.
If you're looking for a very straightforward, easy to follow process that teaches you how to create a traffic-producing site…then I think you'll be left wanting.
Their videos even seem to have conflicting information…one says Google Ads is good, the other claims it's bad. Same for their stance (or lack thereof) on social media.
Kyle even teaches you the same thing twice (how to make videos). Why??
How about building well-written content? Isn't THAT a key to success?
Well, you won't find out until you get to the 46th lesson of this online entrepreneur certification program!
And I just gotta say it…their transitions are anything but smooth. It makes the experience of taking the course too jarring.
Taking Breaks
This might just be a pet peeve f mine, but they have these weird "take a break" parts of the course that are mandated throughout.
I mean, maybe some people need this but in my opinion, it's just annoying and lazy.
If I wanted to take breaks I'd stay at a dead-end retail job and get my allotted 15 minutes every 4 hours. No thanks…
What Does Wealthy Affiliate Actually Teach?
The WA Affiliate Bootcamp will teach you how to build you very own website that promotes – that's right! – Wealthy Affiliate.
The training in the online entrepreneur certification will teach you how to build sites for affiliate advertising in "make money online" niches like dog training, website hosting, and pool cleaning.
Altogether, you'll get hundreds of videos training you on these methods – not bad!
But I should mention that the relevance and quality vary widely, so just be aware of that.
What Doesn't Wealthy Affiliate Teach?
There is a LOT of relevant material that Wealthy Affiliate does NOT teach you. It's like they're stuck in 2015.
You won't get a lot of the valuable SEO techniques needed in order to really get your sites ranked.
In fact, after going through all 120 videos, I made a list of what I DIDN'T see covered:
Nofollow
Building backlinks
Affiliate disclosures alongside affiliate offers
Google Adsense
Alternatives to Google Adsense
Caching
Updating content
External linking to authority sites
Citing sources
Outsourcing content
Schema markup
Featured snippets
Video
YouTube SEO
Alternatives to Jaaxy for keyword research
Which sources of traffic are best and why
Email marketing
Instagram
WordPress page builders
If you want to learn about such critical skills as content creation, brainstorming for great ideas that will actually benefit people and rank on Google…then you're on your own if you're only in the WA course.
Bad Advice In Wealthy Affiliate
I also have to mention that along with a lack of useful info, the training even has some legit bad advice.
Like how they tell you "There's no such thing as a wrong niche" in your affiliate marketing business.
Umm, I beg to differ. Ever heard of underwater basket weaving?
Ok, in all seriousness, they should be better about guiding you to a good niche. Maybe they're just trying to make their students feel less afraid and just go and start the process – but they should be clearer on this topic.
Not every niche will be profitable for you. In fact, you'll see in other courses a list of niches that are best to steer clear of.
Kyle also tells you about thousands of low competition keywords to go after and warns about being too broad when doing your targeting.
I just have to say…if you're trying to sell beach chairs in Alaska, you're gonna run into some issues.
It's stuff like this that frustrate me when going through this program. It's just bad advice.
Don't believe me? Take a look at the forum for premium members.
Kyle also says that you should use headers H3 and H4 instead of H1 and H2 because they're "too big."
Seriously??
They're for SEO! Everyone knows that!
Maybe if he actually kept his course up to date he would know that.
Another piece of bad advice relates to listing the price in your amazon review…luckily a WA premium member let everyone know so people could correct this back in 2019.
Maybe if Kyle would update the training a little bit he'd change his mind…
You may wonder why this is such a big deal…
Well, it could actually get you banned – and if you're relying on this as your only source of income – you're basically screwed.
My favorite though has to be when Kyle said it's possible to pay $5 for good posts that will gain you a ton of traffic.
Umm, I don't think so.
If you've ever talked to someone with a successful online business, they'll tell you that there's no way to get genuinely good content for just $5.
Makes me wonder if he's giving you bad advice on purpose to keep all the skilled content writers to himself.
Think about it – do you believe that someone who just learned his specific preference for writing style would be ok getting paid only 5 bucks?
Doubt it.
So why would he give this advice? Just doesn't make any sense.
Outdated Training In Wealthy Affiliate
I know I've mentioned this point a lot, but it bears repeating (and I know plenty of readers may just be skimming for the main points).
The material in the Wealthy Affiliate course is in desperate need of an update.
Case in point: there are references to Google+ all over the lessons. Google+ was de-commissioned years ago.
Not to mention all the statistics that need to be updated. There's one blog site that seems to really have a lot of faith in Kyle.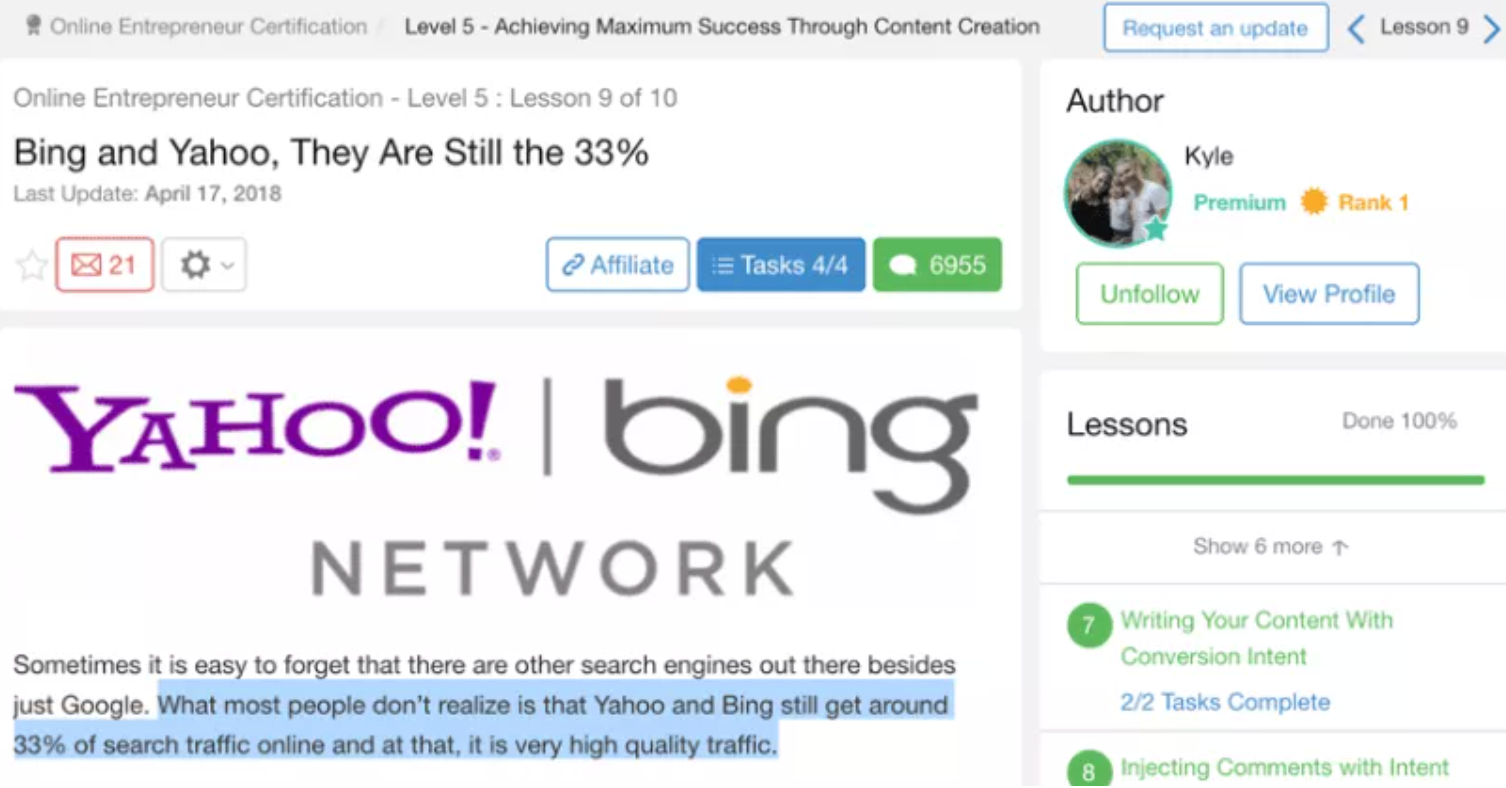 Here you can see it claims that Bing and Yahoo make up a third of all search volume online.
I have to say that is patently false. See what Statistica.com has to say on the matter:
"In June 2021, online search engine Bing accounted for 5.56 percent of the global search market, while market leader Google had a market share of 87.76 percent. Yahoo's market share was 2.71 percent during that period.
Ever since the introduction of Google Search in 1997, the worldwide market share of all search engines has been rather lopsided. Google has dominated the search engine market, maintaining an 92.47 percent market share as of June 2021. The majority of Google revenues are generated through advertising. The company has also expanded its services to mail, productivity tools, enterprise products, mobile devices and other ventures. As a result, Google earned one of the highest tech company revenues in 2020 with roughly 181.69 billion U.S. dollars."
I also noticed that the lessons on social media are extremely out of date as well. One Facebook-related video is clearly from around 2012 or so. You can't afford to be that behind when it comes to fast-moving, trend-focused topics like these.
Wealthy Affiliate Support System
There are pros and cons to the WA support system.
The Good – you'll most definitely get answers to any questions you have.
The Bad – the answers are usually coming from Kyle and are very vague, as you can see:
There is also a bit of a consensus from members that Kyle isn't very responsive on email…even though the newsletter promises that he is.
Seems like he's a do as I say, not as I do type of dude, and I just want you to be aware of that.
Wealthy Affiliate Community
This community is fairly active from what I could see. They have similar features to other social media platforms like chat sessions, etc.
Don't be surprised though if most of the feed is dominated by newbies posting super basic questions.
I wouldn't say it was the most helpful I've ever seen – any time I made a post, all the newbies flocked to try to answer often without any real advice.
I was actually kind of concerned that they don't seem to have very active moderators in there. I saw plenty of random blog posts being shared and even entries begging for money posted by guys with whatsapp numbers.
I recommend checking out the Facebook groups – at least they seem to be moderated.
I can't knock it too much, though, since any community is better than none!
Rankings And WA Ambassadors
I think I may have figured out why there are so many weirdly generic comments in the community forum.
You can see the ranking system above – it's based on who has contributed most to the community.
But if you're thinking these contributors are paid for the time and effort they put into helping out…you'd be wrong.
Instead there are "intangible" reasons as listed by one of the ambassadors…umm, no thanks.
While I do agree that it's important to help others if you want to be successful, that post is missing the point.
Posting a lot in the group doesn't make a person actually knowledgeable on the subject.
Odds are that the people who are the most successful in the business aren't active in the group at all, instead they're using the tactics they learned to push affiliate content to blogs, developing his own training materials, and managing the business!
What's saddest to me is that the people who defend the WA program the most are often the ones that still haven't made a dime using its methods.
Wealthy Affiliate Reviews – Success Stories
When you dig into the program to try to find Wealthy Affiliate success stories, you'll notice that most of them are coming from years ago – rarely is there one more recent than 2016.
We all know why this is – the WA course has extremely outdated content and strategies and seem to refuse to come into the 2020s with the rest of us. That's not really an option in this industry.
If you become stagnant, you WILL be left behind.
What a disappointment – it wasn't that long ago that this program was THE course to get information about a very niche subject at the time. Few programs existed that even came close. If only they had made some effort to keep up with everyone else.
The giant that Wealthy Affiliate was 10 years ago is simply no more.
The Issue With Most Of Wealthy Affiliate Review Writers
You may have noticed in your research that about 99% of people writing reviews about Wealthy Affiliate have only positive things to say – and that they also happen to be in the program themselves. Oh, and lucky for you they provide their affiliate link for you to click too!
Apparently every affiliate of the program gets $121 for every person that clicks through and buys the course, so they make sure to add that link anywhere they can.
Why do I care about this?
Well, you see, when someone gets a kickback from recommending something, usually it means they'll shill it as much as possible – even if that means bending the truth.
Next time you're reading a review, take note of whether there's any disclaimer saying the reviewer is unaffiliated with the WA program (like I have on this very review you're reading).
Only trust the reviews that promise to be unaffiliated and unbiased.
Like, can these people really not find another thing to become an affiliate for?
Maybe it's because the WA course has legit 70 videos just about how to promote Wealthy Affiliate itself…
I swear I'm not joking.
Just look at this screenshot from a member showing their payment history:
As you can see, most of the payments are from Wealthy Affiliate!
Do you see now why some may assume this program is a pyramid scheme? From an outsider's perspective, it just looks like people make money from referring others into the course…not from actually applying the concepts of creating affiliate sites that the course supposedly pushes.
Pros Of Wealthy Affiliate
I know I've listed a lot of negatives to the WA course, so here are some things I do like about it.
Decent Training for Fundamentals
For those who are completely knew to the space, WA does a good job of going over basics such as:
Using keyword research tools
Working with WordPress websites
Getting a firm grasp of the affiliate business model
It's a shame that once you're done with the basics, there is a lot less good to say about it.
Nice Progression
The modules in the course are divided up such that it's a pretty satisfying feeling to make your way through it.
You'll also feel a sense of motivation which can really help if you're new to the concepts.
Honest Reviews
When watching the training videos, I noticed that Kyle encourages you to be honest about the product or service and never to falsify any claims.
I wonder whether his members are taking this point to heart, though…
WA White Hat Training
I'm happy to see the content in the course is very clearly white hat – Kyle even stresses that members should follow the rules.
I find there are way too many programs out there who teach people black hat – and their students are worse off for it.
Video Text Descriptions
In case you forget where you left off in a training video, don't worry, they have text descriptions to help you find your place again.
Cons Of Wealthy Affiliate – Scam?
No, it's most likely not a scam. But here are some reasons I wouldn't recommend it.
Old Training Content
If you want current trainings made after 2015, then this isn't the course for you. And with the affiliate space changing so constantly, we think this is the biggest con of all.
Low Quality Support from Community
You may think that people commenting on your community post is enough to help you out – but I have to disagree. It's not even close to getting input from actual affiliate pros.
I also feel like Kyle and Jay could be a lot less vague when responding to their members, but that's just me.
SEO Knowledge Is Missing
I still come back to how Kyle talked about using H3 and H4 headers instead of the standard H1 and H2. All because of the way they look?
It's concerning that he doesn't seem to realize that the H1 and H2 headers tells Google what terms you should be ranking for!
When going over the content portion of WA, Kyle mentions how he like the look of H3 and H4 headers better than H1's and H2's.
Everyone in SEO knows that H1's and H2's are one of the signals that tells google what you want to rank for!
Is Wealthy Affiliate A Scam?
So, time for the $1,000,000 question – is Wealthy Affiliate a scam?
No, it's not a "scam", technically speaking. They aren't going to collect your payment and then ride off into the sunset without delivering you a program.
You can make money with this program. My only gripe is that making money with affiliate marketing is NOT NEARLY as easy as Wealthy Affiliate wants you to think it is.
As we said earlier, the most important part of doing affiliate marketing right is driving traffic. That means being good at:
Writing ads that sell
Running ads on Google
Running ads on Facebook
Writing website blogs
Ranking websites
Converting users that land on your site
Email marketing
And a whole lot more.
If you're going to spend time learning those skills, why not do it in a way that makes YOU all the money – instead of someone else?
There's just a lot of work to be done here, and no real guarantee of success (not to mention commissions can be small).
Don't get me wrong – I'm ALL FOR doing the hard work now, so that you can reap the benefits later.
But if you're going to hit something super hard for 3-6 months, and your reward is barely enough money for a tank of gas… it's just not worth it (in my opinion).
Again, I'm not saying it won't work – I've personally made money with it, as have many of my friends.
I'm just saying it's a situation where the stars need to kind of align for you in a perfect way.
And you shouldn't be in the business of leaving your fate up to the stars…
But what if instead of all that, you could work those same 3-6 months, and generate a handful of checks that generated you $500-$2,000 EACH, every single month (almost on autopilot)?
And what if you learned it from someone who has already mastered the ability to drive traffic profitably?
Better yet, what if you could see your first payment in one week, not 3 months?
And what if you could double or triple that income within the next month or two?
That's my experience with being a Digital Landlord.
All you really need is a laptop and some internet.
Some of my friends are Digital Landlords that run their 6-figure businesses from:
Camping trips at national parks
Beachfront in Hawaii
On the road in a camper-van (with a pet pig!)
They focus on living an enjoyable life first, and focus on income second. All thanks to this program.
They can take weeks or months off, and money keeps rolling in.
Living happily is the top priority.
If the thought of living perpetually at your dream vacation spot interests you, being a Digital Landlord might be for you!
FAQ's
Since so many probably have some common questions, I thought I'd put together an FAQ section in addition to the review.
Is the Wealthy Affiliate Training For Beginners?
Yes – you can benefit from the program no matter what level you're at in starting a business! Though I suspect that anyone who is a mid-level expert at this is more than likely joining to get that affiliate link to add to their Wealthy Affiliate Reviews.
But if you're a newbie, rest assured that the WA course walks you through all the set up steps involved in getting started – creating websites, content writing, and SEO research (albeit in their own keyword research tool)
How Do Affiliate Marketers Make Money?
They make money with Affiliate Marketing – which means they promote certain items or services on their website by reviewing them. The concept is to get people to click the link you have to that product/service after writing a positive review of it. And the more people you're able to get to your site by use of SEO tactics, the better your odds that you will get a lot of clicks (and purchases through those clicks) and hence make a larger commission off the links.
So every time a sale does go through, you earn a percentage of it.
At least that's what the concept has been traditionally. Nowadays I feel like I see more links promoting the WA course and others like it than anything else.
What makes a site extremely successful is that SEO piece – being able to get a higher volume of people to your site and see you as an authority to trust on the matter will guarantee a lot more traffic!
What Are The Highest Paying Affiliate Marketers Programs?
Here's a list of affiliate programs that are known to have made people very financially successful:
GetResponse.
amoCRM.
Leadpages.
Teachable.
SEMRush.
Aweber.
ConvertKit.
PromoRepublic.
Do you see Wealthy Affiliate on there?
Yeah, unfortunately it's become pretty easy to see through their facade and wouldn't you rather keep $49/month for something worthwhile?
It's worth looking into these if you're looking to get into the make money online niche with affiliate marketing.
Since these are such high-ticket programs, you'll have to make sure your SEO skills are perfection to make your site as authoritative as possible just to compete in the space.
Can You Make A Living Off Affiliate Marketing
Absolutely it's possible to make money with the affiliate method. That is, if you're ok with promoting other affiliate programs.
Like I've mentioned before, programs like this (including WA) have plenty of proof from premium members showing how they're getting paid from the program itself.
Just take a look at these member reviews – they often even show screenshots of their payments from WA in their WA review itself! So of course knowing that, it makes sense why it's hard to find a negative review of this course.
Let me cut to the chase…
It's a vicious cycle where most marketers using this affiliate method are actually just promoting the course they're currently in, earning more money the more people that they refer into it.
How Can I Succeed In Affiliate Marketing?
You can definitely succeed in affiliate marketing!
You just need to get into the right community of people, and use the correct market research tools.
It's really important – and most successful marketers know this -to have a network of people around you who are tapped into the newest trends. That way, you can jump on them before everyone else does and they become oversaturated.
Research as much as you can – if you find that new trend first, then all the better!
Honestly the only mistake you could make would be jumping on the train too late, so make sure you stay up to date on the newest happenings! Otherwise, you may try to enter a space that's already stale.
Can I Be An Amazon Affiliate Without A Website?
You can be an affiliate for Amazon even if you don't have your own website!
All you really need to be an Amazon Associate is some kind of online presence – and that doesn't necessarily mean it has to be a website.
Do you have an app or even your own Youtube channel? Or maybe you have a big Instagram following? Then that means you can be an Amazon affiliate! Whatever route you choose, just make sure you're making authentic content – in the eyes of users and Amazon.
You can promote the Wealthy Affiliate program through other means as well – website, app, social media, etc.
So long as you can use your link, the sky is the limit! Don't overthink it – just go start collecting those commissions!
Does Affiliate Marketing Still Work In 2022?
This is a question I get a lot – and it's a tough one to answer.
Technically, yes – plenty of people still make bank off of affiliate marketing tactics. So it does still work even in 2022.
I have to say, though, that the people who do make REAL money are doing it in high ticket areas that most people who take these courses don't even know exist.
And guess what…that's on purpose.
The ones who are truly successful aren't going to give away their secrets.
The second a market becomes saturated, it's almost worthless. Especially since there's such a low barrier to entry. More competition means less profit.
So yeah, most people in the the affiliate space are only making a few hundred bucks a month. Which isn't enough to live on by any stretch of the imagination.
This is true for a good amount of Wealthy Affiliate premium members, too. On average, they aren't making much money in this online business model.
If you're interested in a truly profitable model to start an online business – especially post-covid – I think you may be interested in my personal recommendation!
What Is My #1 Recommendation For Making Money Online In 2022?
I've personally tried all of the major online business models:
I've sold women's health supplements via Clickbank affiliate marketing
I've sold fidget spinners through Amazon FBA
I've drop-shipped a toilet-bowl putting green on Shopify
And I made money with all of them, so trust me when I say: there is no "perfect" business model.
That being said, my #1 recommendation for making real money online is, hands-down: being a Digital Landlord
Whether you're a complete newbie, or you've been around the block before but have never had that "big win" to propel you forward, becoming a Digital Landlord is for you.
Why?
Time commitment: If you have an hour or two per day, you can do this. Even if you want to drop everything and commit fully, that works too.
You don't have to be constantly working to make money. The income you generate is recurring.
Imagine taking off for a month to places like Hawaii, Paris, National Parks, & other spots people only dream about – all while collecting dozens of little $500-$2,000 checks. It's like a dream come true.
But it's only possible to do it when you've separated your income from your time.
You Own & Control EVERYTHING: With affiliate marketing, you don't really own a single thing – not even the customers you worked so hard to "acquire".
Don't believe me? Go read the terms of service for any major affiliate program – they can fire you or change your compensation at the drop of a dime.
As a Digital Landlord, you own everything, so you have ultimate control.
It's Effectively Copy-Paste: Here's my favorite part: once you have your first Digital Rental Property up, you can literally copy-paste another version of it and find another willing "renter" in a few days. DOUBLING your income doesn't get much easier than that…
If you wanted to double your income as an affiliate, you would need to sell twice as much inventory, or double your profit margins. And I can guarantee you (from my days selling women's health products as an affiliate), that's a lot harder than a few clicks & a phone call.
Great Margins: Margins on affiliate products can be pretty low, unless you're selling high-ticket products. When you sell high-ticket stuff, you typically have a lot of competition, and so driving traffic is expensive.
Being a Digital Landlord, your profit margin is nearly 100%. Watch here to learn how.
Just a reminder: these Digital Rental Properties are worth (at a minimum) $500/mo in semi-passive income. And each time you create another one, your income increases, and the effort put into creating the next property decreases.
Best case scenario, you have properties bringing in over $3,000+/mo on auto-pilot.
You're Helping REAL People: My biggest gripe with affiliate marketing is that you're selling products that will bring you the biggest commission, not the products that will help people the most.
It's cool in the short term to make a quick buck, but in the long-term, it eats away at your soul.
But when you're a Digital Landlord, you're helping solve REAL problems that people are ASKING for help with:
Small local businesses around the world need one thing: customers. Without them, their business would fall apart. If we can provide those customers, they're going to be really happy – and they're going to pay you for it.
You're helping a struggling mother or father put FOOD on the table for their families, put their kids through college, or simply live life a little bit more comfortably.
Having this type of impact on the world is what will help you sleep soundly at night.
So, the rest is up to you. You could keep looking at other affiliate programs like Wealthy Affiliate, which might make you money 12 months from now.
You could keep researching and researching for the next few months (or few years), never making a concrete decision.
OR, you can look deep inside, think about those dreams, hopes, & desires, and make the decision to ACTUALLY make it happen, just like it has for thousands of other students before you.
Making a fortune while actually helping real people that need it.
If this sounds like you, click here to see how it all works.